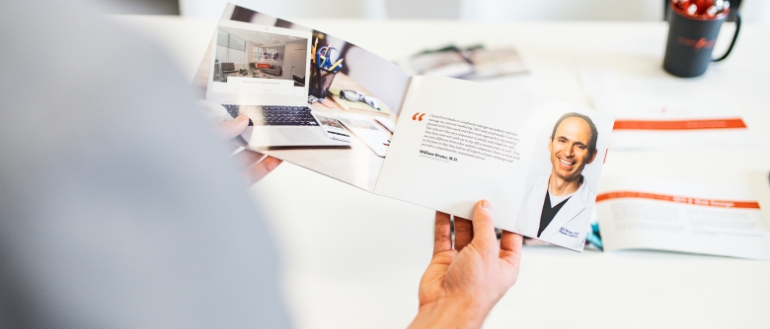 A medical practice's brand is its identity and personality. It is how the business presents itself to the outside world and how existing and prospective patients form a personal connection.
In today's world, having a defined brand has never been more critical. As competition has increased and consumers have embraced their ability to choose who they spend their money with, it has become imperative for medical practices to pay close attention to their brand's representation.
In this post, the branding experts at Firm Media will discuss why branding should matter to your medical practice.
Make Your Medical Practice Stand Out in A Crowd
Within the field of healthcare, the patient experience has been reframed. Today, patients have access to more information than ever before. When a patient decides who to partner with for a medical procedure, they want to feel a connection with the provider. They are pursuing an experience and want to know and feel like they trust a medical practice to deliver the outcomes they are envisioning.
Now, you may feel like your medical practice accomplishes this already as it relates to patient service; however, first, you must attract that prospect to your practice, and to do that you must stand out from your competition. Your branding should:
Deliver your medical practice's messaging and convey your abilities
Confirm your practice's credibility
Connect with a prospective patient emotionally
Motivate the patient to take action
Build long-term patient loyalty to your practice
To succeed, you must understand the needs, goals, and desires of your targeted audience, and when that is accomplished, your medical practice will reap some significant benefits.
Branding Generates Trust & Credibility
When a patient seeks to undergo a medical procedure, they entrust a healthcare provider with their life, safety, and health. Therefore, they want to ensure they choose a doctor or a dentist who has the capability, experience, education, and license to deliver upon their promises and offer a positive outcome. They want to know they can trust you.
Branding goes hand-in-hand with trust-building. When your medical practice's brand is consistent and professional-looking, credibility blooms in the mind of the prospective patient as they can see you are established in the industry. The prospective patient will understand that you have invested in creating your brand and feel more confident in what they believe they can expect if they decide to undergo a medical procedure with you.
Branding Gives Purpose & Direction
Branding also allows your medical practice to establish goals and meaning. After all, highly successful medical practices typically have a mission, vision, and values, and these factors play into your brand identity.
Brand purpose and direction is the reason that your medical practice exists beyond simply generating revenue. It relates to the services that you provide and their impact on your patients' lives. For instance, if you provide cosmetic dentistry procedures, maybe you decided to pursue this profession because you are passionate about helping people restore their confidence and live a better life with an improved smile.
Powerful branding can help your medical practice explain the "why" behind why you exist and gives you meaning. It communicates the idealistic view of what you want to become to your audience, your ethics and integrity, and how you are charting your course as a healthcare provider.
Branding Attracts & Hones in On The Target Audience
What does your practice do well? What are your specialties, and what do you want to be known for? When branding is done right, you can communicate all of the answers to these questions to the prospective patients you want to attract to your medical practice.
You likely are aware that not everyone is your target audience. A strong branding strategy effectively develops and utilizes an ideal client profile when defining a niche market—and then all brand messaging targets that niche consistently and deliberately. For instance, if you are a plastic surgeon specializing in offering "Mommy Makeovers" to your clients, you want to be found by women seeking this type of procedure.
The more your brand is recognized through your digital assets, your marketing materials, and any other way you communicate with prospective patients, the more you will be seen as the brand of choice and the leader in your respective field.
Build Your Brand with Firm Media
At Firm Media, we have placed considerable emphasis on building our brand. As experts in comprehensive digital marketing campaigns designed for medical practices, we understand the unique needs and challenges healthcare professionals face. As such, we are committed to helping you set yourself apart from an increasingly competitive landscape.
We welcome the opportunity to help you define your brand, create branding strategies that resonate with your targeted audience, and drive new patients through your doors. Reach out to our team today to learn more. Our branding experts would love the opportunity to discuss your branding goals and implement a strategy that puts you at an advantage.