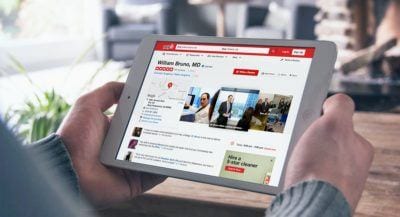 You likely opened your medical practice not only because you want to help patients achieve their health and wellness goals, but also because you desire to make those patients happy and satisfied with the service they receive from you and your team. However, there comes a time in every business owner's life—including medical practice owners—when they must realize that they simply may not be able to make every patient happy. And this, in turn, could lead to a negative, unfavorable, or even inherently false review being placed on a website such as Yelp.
In this post, the reputation management experts at Firm Media will discuss and identify the five types of reviews that can be removed from Yelp and how your practice can engage in proactive and productive reputation management.
What You Need to Know About Yelp
Yelp is one of the most popular business review sites on the Internet—and indeed, it has major sway in impacting consumer behavior through the publishing of content that is submitted by users in the form of written reviews, photos, and other information.
Yelp was originally launched in 2004, and since that time has become a focal point for any business, including medical practices, that is intent on improving their online reputation, enhancing search visibility, and encouraging new customers to walk through their doors.
Here are some pertinent demographics to know about Yelp (as of March 31, 2021):
53% of Yelp users are college graduates, and 21% have completed graduate-level education.
57% of Yelp users have incomes over $100K.
34% of Yelp users are aged 34-54, and 33% are 55+.
Additionally, here are some interesting Yelp facts to consider—especially when you think about the impact this platform could have on your medical practice:
Yelp features 184 million reviews worldwide.
Yelp generates traffic from 92 million unique mobile users each month and over 178 million unique visitors spanning mobile, desktop, and app platforms.
According to Alexa, Yelp is the 44th most visited website in the United States.
Businesses typically experience a 9% increase in revenue for every new star earned via Yelp.
45% of consumers state that they are likely to check a Yelp review prior to making a buying decision or contacting a company to set up an appointment.
35% of consumers conducting a Yelp search will subsequently visit a business's site within 24 hours if reviews are found favorable.
These are some pretty considerable statistics and likely prove to you just how valuable Yelp could be to your practice—as well as how dangerous it could become if you do not ensure your Yelp reputation is one that makes you proud.
When Bad Reviews Happen to Good Practices
In the age of online reviews, a simple truth exists: Sometimes bad reviews happen to good medical practices. We understand as well that it can feel demoralizing, upsetting, and potentially unjust—especially when you believe that you do your best each day to meet the needs and goals of your patients.
Simply put, negative reviews are a fact of life—you cannot avoid them, but you should not ignore them either. Instead, our team encourages you to approach a negative review through the use of skills that you have developed and utilized during your career as a physician. Diagnose the problem, identify a cure, and administer a plan of care. Be diplomatic, employ a caring "bedside" manner, show you are listening, and of course, remain compliant with HIPAA.
How to Respond to Negative Patient Reviews
Yes, you must respond to a negative review. In fact, we also encourage you to offer thanks when someone offers positive feedback—it humanizes your practice and shows there are real, breathing, caring humans running the show).
But it is pertinent that you know how to respond as a medical professional because there are some regulations that need to be followed. We highly recommend regularly staying up to date on HIPAA regulations or having a dedicated in-house HIPAA compliance officer.
When responding to reviews online, here are some practices to avoid:
Do not reveal the procedure, service, or treatment that you performed for the patient.
Do not identify the author as an actual patient or reveal personal or identifying information.
Do not discuss billing information.
At the same time, follow these best practices when crafting a response:
Express that the practice is reasonable and that you are not looking to debate.
Seek to educate the reading public.
Address the concerns raised in the review in a diplomatic and even manner.
Invite to take the conversation offline in order to solve the issue.
Write these rules and practices down and ensure your staff is made aware of these procedures (you may also want to consider making this a section in your employee handbook, so everyone is on the same page). Ultimately, when you respond to a negative review with a level head, it is quite likely you will be able to establish a problem-solving dialogue with the reviewer, address their issues, and possibly get them to unpublish their negative feedback.
However, Sometimes You Need to Contact Yelp
While we always encourage you to address and potentially solve negative reviews that are legitimate, there is another stark reality: Some negative reviews can be flagged and removed directly by Yelp if they do not meet Terms of Service and other site rules.
According to Yelp's Content Guidelines here are the five types of reviews that can be removed without much hassle.
Irrelevant Reviews: Yelp will flag and remove content that is deemed irrelevant to users. This includes current or former employee rants as well as unlikely or irregular patient experiences, i.e., a patient is angry because of road construction happening on the road outside of your office. Yelp refers to this as "extraordinary circumstances" and gives leeway for interpretation.
Non-First Party Reviews: Yelp can remove reviews that are written about another person's experience. For instance, if someone leaves a negative review on your practice profile and they were not an actual patient (such as a spouse or a friend). In this regard, it can be flagged for removal.
Explicit or Offensive Reviews: Yelp will remove reviews that contain any type of threat or hate speech. The site classifies this under their restrictions to investigate any actions that "threaten, stalk, harm, or harass others, or promote bigotry or discrimination."
Reviews that Include Private Information: Yelp requests that reviews do not contain other people's full names unless a person's full name is the name of their business. For instance, a law firm's business name containing someone's full name would be fine. However, a patient mentioning the owner of a practice's full name could be flagged. Yelp also asks that users do not post photos or videos that include other people on their site without obtaining that person's permission.
Plagiarized Reviews: Yelp has the ability to remove reviews that are copied and pasted from other sites (such as Google or Facebook) or posted previously by another user, along with reviews that violate any form of intellectual property.
If you find a review of your practice that fits into one (or more) of these five categories, we encourage you to flag the review for attention by Yelp. The site's Operations team will then evaluate it, ensure it violates the Terms of Service, and send you an email notification that informs you that your request for removal is being considered. Of course, there is no guarantee that the review will be removed, but our team specifically has experienced great success by following this practice in the past.
Engage in High-Quality Reputation Management—On Yelp and Beyond
Managing the reputation of your practice might seem like a big job—but it is a necessary one. However, if you recognize the merits of proactive reputation management and want to ensure you not only do right by your patients but that they also recognize you for your high-quality patient care and service, then know you do not have to go at it alone.
Reach out to the team of reputation management experts at Firm Media and achieve peace of mind knowing that you have a partner who is well versed in best practices. We are committed to helping you generate glowing reviews right from the get-go so you can grow your patient base and your practice revenues.
Contact us today for your free reputation analysis and learn how we can help!