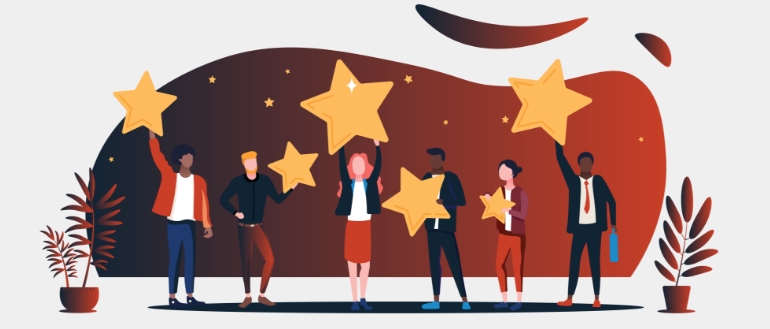 Healthcare practitioners play a pivotal role in the lives of the patients they serve—and historically, medical offices have relied on their referral networks or word-of-mouth recommendations to grow their patient base. However, today, more research about a medical practice is conducted online. Notably, patients make their buying decisions based on the feedback showcased on online review sites, including Google, Yelp, and Facebook. As such, medical practitioners must be proactive when generating patient reviews. Having a strong online profile and reputation is critical to the growth and long-term success of a practice.
In this blog, the online reputation management experts at Firm Media will outline some easy tips on asking patients for a review about their experience.
Why Online Reviews Are Important
In today's highly competitive healthcare marketplace, transparency has never been more important. Online reviews contribute to a medical practice's openness and play a big role in influencing a buyer's journey.
According to NRC Health, over a third of patients note that the online reputation of their doctor is incredibly important to them. What's more, six out of ten patients explain that they have decided to work with a doctor based on online reviews. Conversely, the same number of patients have explained they have decided to avoid contacting a doctor based on the negative reviews associated with the practitioner.
Typically, online reviews enter a prospective patient's radar early in the decision-making process, with 37% of patients saying that online reviews were their first stop when assessing whether to schedule a consultation with a medical practice.
Keeping this in mind, it is obvious that it has never been more important for a medical practice to ensure that the reviews a prospective patient has access to are not only positive, but plentiful.
Tips for Asking Patients for Reviews
Of course, asking patients to leave an online review is a delicate process, especially for medical practices, as professionalism, empathy, and displaying a commitment to confidentiality are important. However, gathering reviews while showing respect and concern for the patient's privacy is possible. We encourage the following best practices:
Print a reminder on a physical card. Patients usually hold on to appointment cards or put them in a highly visible place. Therefore, this is a great place to offer a reminder to leave the practice a review. If you use digital appointment cards, include a live link to the review site for easy navigation. Of course, whether you offer a digital or paper appointment card, make sure you point out the link and thank them in advance for leaving a review.
Send targeted emails. After a patient's visit, send a follow-up email to inquire about the experience and invite them to share their opinion. Begin the email by thanking the patient for entrusting your practice with their care, encourage them to reach out directly to the office with any concerns, and then suggest leaving the review. Make sure you provide links to designated review sites to enable easy navigation.
Additionally, make sure the communication is personalized with the patient's name, the doctor they worked with, and their appointment date and time. Also, while it's highly likely that a reader will go ahead and leave a review right then and there, send a follow-up email a few days later to drive the message home, just in case.
Encourage a review on take-home instructions. Asking for a review on the materials that a patient takes home with them after a procedure is completed is another strategy that offers high visibility. The patient will likely consult those notes regularly in the days after their surgery, and your practice will be top of mind. Direct them to where they can go online to leave a review and recount their positive experience.
Ask for a review in person. Finally, there is no harm in tactfully and respectfully asking for a review right after their appointment. Ultimately, a few more minutes of attention and care go a long way in guaranteeing a patient's happiness, satisfaction, and positive opinion. Think about asking for feedback in the exam room, or encourage your staff members to engage in friendly, personalized conversation at the end of an appointment. Simply asking, "How was your visit today?" can offer an opening for a patient to comment on their experience. If the person offers praise, that is an opportune moment to ask them to write a review. If they provide any other type of feedback, then that is also a convenient moment to offer excellent customer service and ensure their issues are addressed, and they leave the practice satisfied.
Let Patients Know Their Feedback Matters
At the end of the day, patients want to feel valued, appreciated, and heard. What is more, people want to feel like their actions have an impact and contribute to the greater good.
Patient reviews enable your team to provide better and more comprehensive patient care. As you gather feedback, you will discover that your patients do want to ensure your success—and they will be eager to help you.
The team at Firm Media works closely with medical practices to grow their online reputation and generate more positive patient reviews. We invite you to reach out to our team to discuss a targeted strategy that encourages patient reviews and enables your medical practice's growth and success.