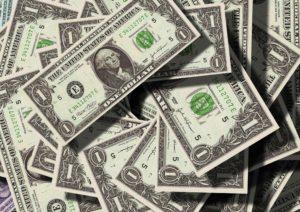 Many doctors struggle with the idea of giving away pricing information online. On one hand, they want to be transparent about their practice and pricing. On the other hand, giving away prices may lead to less phone calls, less consultations, and a list of other issues. So what should you do?
Let's break down some of the pros and cons of pricing.
Pro – Free up your staff's time
We hear it all the time from clients. "I'm getting a lot of phone calls, but they're all shoppers and are taking up too much of my staff's time." Well, by giving away pricing on your website, the "shoppers" now have no need to call and take up your staff's time. They can simply submit a form, get the pricing, and be on their way.
Con – Less phone calls/regular form submissions
This is an adverse effect to the pro above. If you give away pricing, then your call/form submission volume may go down. This means that your staff does not have the opportunity to work their sales tactics on the prospective patient and get them in the door for a consultation.
Pro – Remarketing
As most of you know by now, plastic surgery is excluded from doing traditional remarketing (AKA retargeting). Traditional remarketing is when a user visits your site and doesn't convert, they then get shown ads that follow them around the Internet on various websites to remind them that they were interested in you. The hope is that the ad will bring them back to the site to convert. It was one of the best digital advertising tools available (because you stay in the top of their mind and the costs were minimal). It is unfortunate that remarketing is no longer a tool available to plastic surgeons.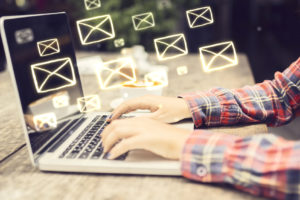 How can I do remarketing then? As everyone knows, price is still (and will probably always be) the #1 deciding factor for a buying decision. If you want to remarket to prospective patients who you know were interested in your service, give away pricing information in exchange for an email address. Now, you can email the people who were interested in you but weren't ready to schedule a consultation at the time. If you have strong email campaigns by providing the right information at the right time, then these leads will convert to surgery!
Con – Increased no show rates
As we said above, the "shoppers" are probably not ready to schedule their consultation when they submit their email in exchange for the pricing. For those that ARE ready to schedule a consultation (and came through a pricing form), many practices have reported their no show rate increasing. Since a lot of price shoppers are starting their search with price (instead of searching for board certified surgeons, learning about procedures or utilizing resources like RealSelf), they are not going to be the warmest lead. So if you are able to schedule a consultation with them, please keep this in mind.
There are hundreds of different ways to decrease no show rates, but one of the easiest (and most effective) ways is to take credit card information over the phone and let them know that there will be a $X charge if they do not show up or reschedule within X hours.
Why does this work so well? It's quite simple actually:
First, for those people who do not want to give you credit card information, they were probably the ones who weren't going to show up for the consultation anyway. By asking for credit card information, you can really gauge whether they are shoppers or serious about surgery.
Second, for those people that do give you credit card information, they are more likely to show up because they don't want to get charged for something they didn't do (or at the very least, call ahead to cancel their appointment so you know in advance).
Again, there's hundreds of different ways to decrease no show rates and, if you are giving away pricing, we invite you to try as many as you can before deciding that pricing isn't going to work for your practice.
Pro – There's applications for pricing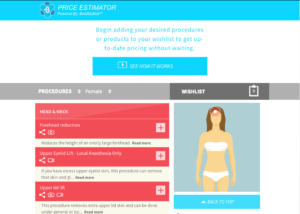 Our favorite is BuildMyBod. Why do we like it so much? It's simple: BuildMyBod is an interactive app that can go on your website and gives users something to engage with (we all know that Internet users are easily distracted by "shiny" things and are more likely to engage with an app, rather than a basic form).
Not only that, but it can hold detailed information including text, pictures and even videos. BuildMyBod also provides you with Deep Links that can you can use in your AdWords ads (or anywhere you need to use a URL) so when a user clicks on your ad, they're taken directly to the BuidlMyBod app on your website and directly to the procedure of their choosing. Lastly, BuildMyBod has recently released an integration with Google Analytics which allows you to track all of the pricing submissions as Goals.
BuildMyBod is a wonderful tool for pricing that has many more capabilities than listed above and if you are interested in its capabilities, we invite you to explore their website at: www.buildmybod.com.
Con – Competitors can get your pricing and undercut you
While a lot of you may see this as a con, we want to ask you this question: "If a patient is only choosing surgeons based on price, do you really want them as a patient?" If you are giving away pricing and one (or all) of your competitors are undercutting you, then you may start to see a decrease in patient volume. But, if your competitors are undercutting you, then you are now positioned to be the elite choice in your area. Why? Because you're not the cheapest option in town.
Is that necessarily a bad thing though? Do you think Apple cares that they're not the cheapest? What about Mercedes? They know they're not the cheapest, so they don't market themselves that way. They're a luxury brand. If they can do it, why can't you? You might be surprised that when you position yourself as the superior option (and hence, your price is more), you end up getting better quality and even higher paying patients.
"That's all great information, but what does Firm Media recommend?"
Our recommendation with regards to pricing is…TEST! Marketing is testing and if you don't test, then there's no way to know if something is or isn't going to work. Depending on the type of practice you are and how you have positioned yourself in the market, pricing may not be a good idea for you. But in the case of most single provider practices, pricing is an idea that you should at least test.
If you do give it a try, make sure and give yourself enough time to see that it is or isn't working. Just because you had 1 no show does not mean that pricing doesn't work. If no one schedules a consultation within the first week from a pricing submission, don't worry! Again, these are "shoppers" and probably don't want to schedule a consultation right away. Give it a try for a couple of months, adjust when you see concerns and try to make it work for you.
We're willing to bet you'll be pleasantly surprised by the results!