Over the last several years I have been fortunate enough to work with hundreds of clients whose main goal is to see more traffic to their propriety website. From this exposure – tracked through statistics and activity reports – I have found three things to be true: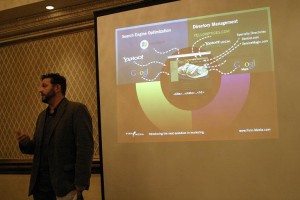 1. Internet marketing requires a strategy
2. It offers simplicity (but requires follow through)
3. It works!
The Firm Media website and brochures hold what we like to call the lead funnel graphic on the pages. The purpose of the illustration is to help the client understand what Firm Media plans to accomplish for you and your website.We take an integrative, results-oriented marketing program approach.
Many of our clients came to us with no idea why they were paying a handful of Internet marketing agencies a large sum of money. Over the years I started to referred to as the "I-signed-up-for-it-at-the-tradeshow syndrome." This is how the story goes:
A business professional goes to a tradeshow and signs up to be listed on an internet directory or for SEO services. Then, after several years of repeating similar behavior patterns, this individual has no idea what is actually working for his or her business.
Over the last several years, Internet marketing has immensely changed. Enough information has been collected and strategies and philosophies are being developed that internet marketing is now offered as a degree at many colleges.
This brings me to the branding and marketing strategy of our new campaign: lead funnel creating a clear picture. This campaign is designed to reduce the confusion that is often associated with Internet marketing and advertising.
Check back next week to review our six-step strategic approach toward Internet marketing.
Follow us on Twitter: @FirmMedia