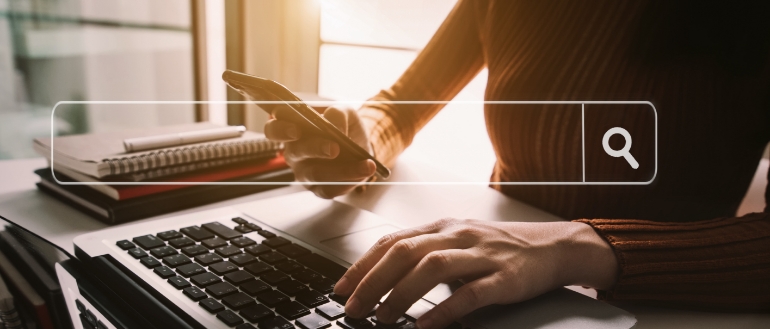 As a medical practice owner, you recognize that Search Engine Optimization (SEO) is key to ensuring your business's success. In part one of this series, Firm Media offered a high-level overview of what SEO is, why keywords matter, and how solid SEO practices and keyword choices can offer tremendous value to your business and bottom line.
In part two, we will delve deeper and offer more insight into SEO and keyword strategy that should be employed by your medical practice. This post will discuss non-local keywords, identify keyword research tools to use, and explain why your website's content is vital to improving your practice's visibility and web presence.
What to Consider When Choosing SEO Keywords for Your Practice
To ensure that you have picked the best keywords to help qualified patients find your practice, you must consider some specific criteria in keyword research. Here at Firm Media, we encourage you to ask the following questions in your assessment:
What types of services does your medical practice provide?
What services generate the most revenue?
What treatments or procedures do you anticipate adding to your service offering?
What services do you want your medical practice to be known for?
Do you only serve one geographic area? Or do you want to attract patients from varied markets?
As you gain clarity on the type of niche you want to carve out, you will be better prepared to choose keywords that support your mission and overall goals.
Knowing Who Your Competition Is Matters
To identify which keywords are the most valuable to your medical practice, it is also important to understand your competitors' keyword strategies and how they are found by prospective patients. This is where competitor research comes into play.
Simply put, knowing your competition is a critical part of SEO. Why? Because when your practice achieves better rankings, it is likely that your competitor is pushed down in those same rankings—and vice versa.
Consider the following:
Run a search of your most important SEO keywords and learn how your competitors use your keywords. Where do these competitors show up in the results, and how often do they use your targeted keywords?
Are the most significant search engine competitors that show up in the results also your most significant business competitors?
What types of articles featured on your competitor's blog are being shared and liked?
What keywords do you and your competitor both rank for? And what keywords does your competitor rank for that you do not—and want to?
You want to have a clear understanding of what your competitor is doing—and how they are succeeding—to better develop your own SEO strategy.
Generating Traffic by Considering Search Intent
Let us begin this part of the discussion by defining search intent. Also known as query or user intent, this is the goal or intention that a prospective patient has when they begin a Google search. There are three types of queries, including:
Go/Navigational: The user seeks a specific location or website with the intent of going there directly, for instance, breast augmentation plastic surgeon in Chicago.
Know/Informational: The user wants to learn about something, for instance, the recovery time for breast augmentation surgery.
Do/Transactional: The user is looking to take a specific action; for instance, schedule consultation for breast augmentation surgery.
Ultimately, prospective patients have varied needs depending on where they are in their patient journey. Marketers oftentimes call this the "sales funnel," and prospective patients at the top of the funnel might just be beginning to learn about procedures they are interested in with individuals at the bottom of the funnel ready to act.
In turn, there are specific keywords that could be associated with each stage in the funnel—and an effective SEO strategy will create content that ensures a medical practice's website is capturing and capitalizing upon opportunities throughout the patient journey. It is important to educate prospective patients as they make a buying decision.
Local & Non-Local Keywords
Most medical practices want to appeal to prospective patients who are in their local geographic market, and it is always a good practice to choose keywords that showcase geographic modifiers, i.e., "breast augmentation surgeon in Atlanta." This appeals to middle and bottom of the funnel searches, and helps a prospective patient identify a practice that is local.
Additionally, consider the following key points:
These keywords will have less search volume when compared to a keyword without local focus.
These keywords will be less "difficult" to rank for since there are fewer medical practices targeting them.
These keywords will be more likely to send qualified candidates to your practice as they are deliberately seeking a local provider.
Now, local keywords are valuable to your practice, but non-local keywords should also be incorporated. Consider the following reasons:
Non-local keywords are usually associated with top-of-the-funnel searches. Generally, someone is not going to search for "how long is the recovery time for breast augmentation in Atlanta?"
Google will reward a practice with higher rankings when you address a pertinent topic and provide high-quality information to the prospective patient.
Creating content focused on non-local keywords can help a practice build authority and be considered a trusted source—which can lead to success for years to come.
When you can help people no matter where they are located, the search engines will see your medical practice as one that is worthy of a top spot in the results.
Keyword Tools to Use Now
There are multiple online tools available when your medical practice is seeking to identify the potential that a keyword has, including:
These tools are largely free and can prove useful when estimating search volume and keyword difficulty. However, to ensure that these tools are effective, use them in conjunction with the other strategies discussed in this series.
Content is Important & Website Design Matters
The final point we will make relates to how important it is to have a responsive, user-friendly, and conversion-oriented website—and to feature high-quality and informative content. At the end of the day, you can have a sound SEO and keyword strategy, but if your content is grammatically incorrect and lacking substance and your website is badly designed and hard to navigate, then all the time you have put into SEO will be wasted.
Your content should be unique to your practice, include video and imagery that is appealing and exciting, and communicate your values.
Additionally, your website must follow modern design standards, work well no matter the device a prospective patient is accessing it on, be ADA compliant, and offer an easy path to conversion.
At Firm Media, we strive to provide a comprehensive digital marketing and SEO strategy for your medical practice that encompasses all the topics covered in this blog series. Our goal is to not only rank for keywords important to our client's success, but also ensure that prospective patients end up on a user-friendly website that answers their questions and inspires them to act.
We would love to speak with you about how we help medical practices realize improvements to their digital marketing efforts. Reach out today for a consultation.