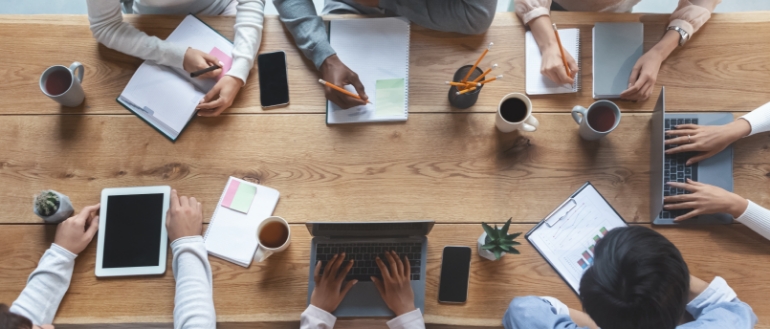 When your medical practice partners with a marketing agency, you are investing in the future success of your practice and placing considerable trust in the team you hire. As a practice owner, you likely consider your business an extension of yourself, and a great marketing team will take your branding and communicate it seamlessly across all marketing channels.
Read on as the digital marketing experts at Firm Media explain why your practice's marketing success depends on consistent communication with your marketing team.
Your Brand is Your Business Personified
You have a clear idea about how you want existing and prospective patients to perceive your practice. You display your logo prominently around your office. Your marketing collateral has a cohesive, branded look. You train your employees on how to communicate your brand's values, messaging, and mission.
All of those are excellent internal best practices. However, a new dynamic is introduced when you partner with a marketing agency like Firm Media. The marketing professionals you are putting your trust in need to be educated on all those points. They need to understand your mission, vision, and what makes your practice unique. They must know about your service offering and the procedures that generate the most revenue. Your external marketing team must know this to create consistency in the content—and the overarching strategy—they develop for you.
Without this insight and ongoing communication, it is unlikely your practice will realize the maximum return on investment from your marketing campaign.
Best Practices for Working with Your Marketing Team
It is important to remember that you are hiring a partner to act as an extension of your practice. And to get the best results, you must also be invested in the process.
Here are some of the best practices that Firm Media promotes with our clients:
Talk to your marketing team—and make sure this is a regular occurrence. Often, communication will be frequent and forthcoming in the days and months after your client contract is signed. Then interest wanes, new priorities present themselves, and communication becomes less frequent. We can still produce content in a situation such as this. However, when we have a client engaged, excited, and eager to interact with us, the content produced is much more personable, fruitful, and effective, which means better results.
Effective marketing involves active participation and attendance of meetings. Attending regular conference calls or Zoom meetings is crucial to stay updated on planned marketing strategies and campaign performance. These meetings are opportunities to strategize with your marketing team on trends, struggles/successes you are experiencing, and changes you would like to see. Being detailed will allow your marketing team to be in tune with your vision and more equipped to anticipate your needs.
Define your goals—and make sure you keep your marketing team aware of changes. Did you recently start offering a new service? Have you changed your mind about the results you want to achieve? Is there some other news happening around your practice? Then be sure you are making your marketing team aware of this—armed with this type of information, they can distribute this across all the appropriate channels.
Provide examples. Do you have a competitor or peer who does marketing well? Is there another practice out there that strikes a tone or style that you want to emulate? If so, provide this information to your marketing team. They want to understand what great marketing looks like to you.
Be responsive. This point is critical. Your Account Executive will be sending you regular emails asking for approval on content before we add it to your site. Suppose you are not timely in responding to these emails or even returning phone calls. In that case, a delay is experienced, impacting the SEO efforts and other factors associated with your campaign.
Instill collaboration into your practice's culture. Your time may be limited—especially when you have patients to see. Therefore, ensure that anyone responsible for working with your marketing team realizes the urgency associated with the partnership. Train your staff members to treat this relationship as a priority.
Create & Sustain a Relationship with Your Marketing Team
Consistent communication with your marketing team is an integral part of achieving your practice's goals. When you have a back-and-forth relationship that enables the free flow of information, your marketing team will be able to capture your brand's tone of voice, and the content being produced will be a seamless reflection of your business.
At Firm Media, we aim to be an extension of your practice and represent you the way you want to be seen by your patients. To do that, we must have accurate and up-to-date information—and that comes by building a collaborative relationship with you.
Contact our team today to learn how we partner with our clients and achieve their marketing goals.