Along with supporting doctors in their digital marketing, Firm Media has extensive experience in the nonprofit world. In 2011, our company's founders launched Project Boon, a 501(c)(3) organization, to support communities in need throughout the world.
Many of our clients also have charitable programs of their own. However, other doctors tell us they want to "do something," but they are concerned about the time or resources required.
Giving back does not require a net sacrifice of time or revenue. Done properly, it will be both personally meaningful and beneficial to your business.
---
How Practices Are Giving Back
Firm Media's clients support charitable causes in a variety of ways.
Some provide financial, material, and promotional assistance. One of our medical practices donates fees from every exam to a charity of the month, with the goal of giving over $1 million over eight years. At Clagett Dental, for instance, Dr. Clagett and his team donate $5 from every fluoride treatment to provide blankets for a local NICU. His other practice, Clagett Perio, donates the full amount of exam fees to the selected charity of the month.
Doctors offer their time and expertise. Many plastic surgeons participate in mission trips to underserved communities, where they perform cleft lip and palette repair procedures for organizations like Smile Train. Our very own Dr. Banner of In Motion Dentists offers free dental exams at Project Boon's annual Eat & Be Well Thanksgiving event and offers monetary donations for supplies during our other annual events.
Some practices create their own charitable initiatives. For example, another practice offered patients discounts on treatment for bringing in backpacks filled with school supplies. This program helped us provide backpacks to 800 underserved students. In another example, Dr. Schoemann is currently hosting a Thanksgiving Food And Supply Drive at Schoemann Plastic Surgery in Encinitas, CA. Any patient who brings in jackets, blankets, and/or gift cards (for purchasing food and hygiene products) to his practice in November will receive a $50 gift certificate towards any procedure. Schoemann Plastic Surgery will be distributing donations to the Community Resource Center in Encinitas and Fill-a-Belly Carlsbad and Encinitas locations.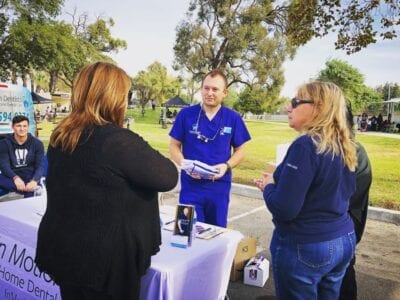 Contributing to a charitable cause offers incredible personal gratification. We have experienced it ourselves with Project Boon, and we hear it frequently from doctors who wanted a stronger connection with their community.
Show Prospective Patients That You Care — and What You Care About
Charitable contributions can improve your practice by helping drive new revenue.
As high as 85% of consumers have a more positive image of a business that gives to charity. In the same study, 90% of consumers wanted to know how companies support charitable causes.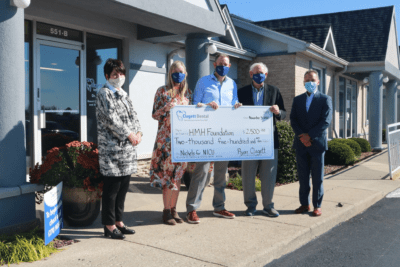 When prospective patients search online for doctors or weigh their options for treatment, they may evaluate many factors, such as:
Personal recommendations from family and friends.
A provider's reputation, expertise, and services.
Confidence in the treatment that the doctor and medical team will offer.
This last piece is particularly important. Whether a prospective patient is viewing your website, in the office talking with staff members, or getting to know your doctors, there is an unspoken question in his or her mind:
"Will this medical practice care for me properly?"
Giving to charitable causes shows that you value your personal impact on the lives of others. When patients see that you care, they are more likely to choose treatment with you — particularly if your cause is meaningful to them as well. Plastic surgery is heavily marketed and may be viewed as a commodity. Giving back to the community could be a key differentiator for patients choosing a provider.
---
Focus Your Staff Members on a Shared Goal and Not Just Monetary Success
While all forms of giving back can be beneficial, practice-sponsored volunteering has an advantage: it personally involves your staff members in a joint cause.
Numerous studies have shown that volunteering can promote staff satisfaction and retention. In a Deloitte survey on the workplace, respondents said that:
Company-sponsored volunteer activities are essential to employee well-being (77%)
Companies that sponsor volunteer activities have a more pleasant work environment (70%)
Volunteer activities are more likely to boost morale than company happy hours (74%)
In a report by UnitedHealth Group, employees who volunteered said that:
Volunteering with work colleagues strengthened their relationships (64%)
Volunteering made them feel healthier (76%)
Volunteering improved their moods (94%)
As a business owner, you may worry about committing time to a cause when you are so busy with work already. This is a fair objection, but considering the above research, it helps to remember that you are making a trade and not a sacrifice.
For Firm Media and many of our clients, company-sponsored volunteer opportunities provide tremendously greater value than the time we might otherwise spend on daily responsibilities. These causes rally our team together, allow meaningful personal connections, and create motivations beyond financial success. Giving back is a smart business decision as much as a reflection of our personal values.
---
Getting Started with Giving Back
Launching a charitable program can be as simple as you would like. Based on Firm Media's experience, here are some brief guidelines:
Review your practice's mission statement.
Identify the causes that align with that mission.
Explore existing organizations that address these causes.
Determine the ways that you and your staff members want to contribute.
Supporting a local organization can help you connect with patients in the community who hold shared interests. In addition, it can give your staff members an avenue for practice-sponsored volunteering.
If you are seeking an immediate opportunity to give back in a meaningful way, we welcome you to take part in Project Boon's "Eat & Be Well" event on November 25. This Thanksgiving program gives underserved communities the resources they need for the holidays and beyond. We hope you will join us and continue to find other ways to support charitable causes.
If you are in the San Diego area, stop by Schoemann Plastic Surgery for an opportunity to give back to the community and receive a discount on services.
Talk with Firm Media about how your practice can get involved in giving back. Contact us at (855) 681-3292 or online.