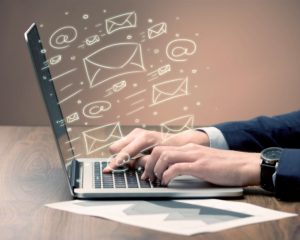 We all get emails: work emails, personal emails, spam emails, etc… Hundreds of emails are coming through our inboxes on a daily, weekly or monthly basis (if you get hundreds of emails on a monthly basis, we envy you). Email marketing has been around for so long that the majority of us are numb to it. In fact, you may find yourself deleting most of your messages that you at one point opted-into.
This leads to common questions many surgeons ask us:
What is the purpose of email marketing?
Is email marketing worth it?
Will my patients see the value or will they just delete it?
How do I create an effective email marketing campaign?
Branding
"Your brand is a story unfolding across all customer touch points" – Jonah Sachs
Email marketing is an additional touch point for your patients. An opportunity for them to get to know the practice a bit better and forge a stronger relationship with you. Much like social media, it's a tool to keep you top of mind and a constant reminder that you are there when they are ready for their next procedure.
By strategically providing teaser content in each email and linking to a designated landing page on your website, the patient is given a direct funnel to learn more about you or a procedure before ultimately contacting you directly from your website.
ROI
"What is the ROI of your mother? How can you put a value on a relationship?" – Gary Vaynerchuk
Email marketing has a conversion rate of 40x that of Facebook and Twitter. It is also the most cost effective marketing channel with an average ROI of 4300%! With those statistics, even just one patient that books surgery after clicking through an email will pay for the entire campaign. Numbers aside, creating a lasting relationship with your patients is priceless. Happy patients are patients for life and they in turn refer their friends and family creating more lifelong patients.
Education
"Getting information off the Internet is like taking a drink from a fire hydrant." – Mitchell Kapor
With the popularity of plastic surgery, there is information everywhere. Would you rather your patients learn about procedures from a lifestyle magazine writer or from a surgeon they already know and trust?
The value of email is in interacting with your patients and educating them about surgery to help them make the best decision for their unique situation. Surgery is a big decision and while you may not be able to address every question a patient may have through an email campaign, you can at least get the conversation started and get them in the door for a consultation. Your patients will feel more confident in getting information from you and feel a stronger bond with your brand.
Lead Generation
"Signing up is a powerful signal of intent to buy. Send them email until they do." – Jordie van Rijn
Most of the emails in your inbox are likely retail or e-commerce of some sort. The medical industry is significantly different in that the sales process is much longer and requires much more interaction with the customer before a sale is complete. While some practices choose to offer monthly specials or seasonal discounts, you don't need to slash prices for an effective email campaign.
The most effective thing you can do is provide quality information that your patients will be interested in. If you do have specials, that's great! Think about what would be most valuable at that time. Is it almost bathing suit season? Or is it wintertime when everyone's skin is crying out for your professional line of skin care products? Are you seeing a trend in your office for a specific procedure? Talk about it! You don't have to discount your surgical procedures but by providing quality information along with patient testimonials or before & after photos you are inching patients through the sales funnel and allowing them to be as informed as possible.
Importance of Email Marketing
"Email has an ability many channels don't: Creating valuable personal touches at scale." – David Newman
Email marketing is a very personal way to reach your patients. It's not carefully curated content on your website, it's not social media content enticing you to immediately engage, it's an offering. An offering of information that you believe is worth the reader's time.
Email marketing is the only time your patients will be handed information without having to work for it. Sure, they at one point opted-in to receive emails from you but that's it! They don't have to find your website or search for you on social media. They simply open up their inbox and there you are. No work necessary.
91% of people use their smartphones to access their email with the average person checking their phone about 46 times per day! It's the easiest way to stay top of mind and become fully ingrained in your patients' minds whether they are ready for surgery or not. The fact is, when they are ready you have already given them all of the information needed to take the next step.