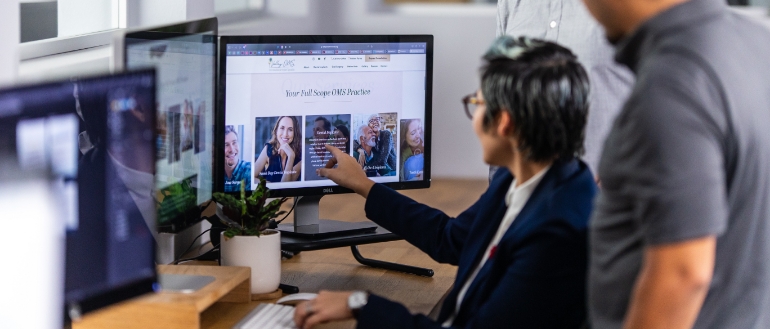 Google defines website conversion as website visitors interacting with your website, seeing your ads or product listings, and becoming a customer. Conversion is the primary goal of any business's website, but maximizing conversion of visitors to patients requires thoughtful planning. Here are four simple but critical components to include in your website to maximize your conversion rate.
Call to Action
A Call to Action (CTA) is a marketing term that refers to any design or prompt that induces a viewer to immediately buy or take further action to become a patient. They often include imperatives such as "call now!" or "visit us today" but may take many forms. A website call to action should create a sense of urgency and direct the prospective patient to a form or other interactive element that makes conversion easy. Having a good call to action on your website is vital to making your website conversion-friendly.
Desired Actions: A brightly colored button saying "request a consultation" can guide the viewer to perform the desired action by making it as easy as one click.
Reminding the Visitor: A simple call to action on each page can remind the viewer why they visited the website, and drive them to become a patient.
Gaining Feedback: A button with a call to action that leads to a contact form can make them more likely to fill it out, whereas, without that button, they may have never found the form at all.
Firm Media includes a call to action on every page that appears at the top of the screen regardless of your position on the website. This sticky menu even applies to mobile and tablet views, maximizing conversion across any device platform.
Accessibility
For many people living with disabilities, websites can prove difficult to navigate. Accessibility on the web means designing your website with the proper tools to make the website easier to navigate for people with disabilities. An accessible website not only converts more customers who may be turned away by a less accessible website, but it also may protect you from possible litigation under the Americans with Disabilities Act.
At Firm Media, we utilize a plugin that uses AI to scan your website for accessibility issues periodically. We also strive to stay up to date on WCAG standards and adhere to their guidelines.
Mobile Friendly
Phones and mobile devices are very common and, in the first quarter of 2021, it is estimated that 54.1% of all web traffic comes from mobile devices. A website that is not mobile-friendly will not capture this traffic and thus lose a huge number of potential conversions. Firm Media designs mobile-friendly and responsive websites to maximize mobile conversions and engage visitors across various devices. The following guidelines can help make your site mobile-friendly:
Dynamic Content: Content on your website (e.g., images, animations, logos, etc.) will dynamically change and scale based upon the screen size and device used, ensuring visitors view content in the best form for the device they are using.
Navigation: Navigational menus are changed to fit onto smaller screens while maintaining complete usability with stylus and fingers that are naturally less precise than a mouse cursor. Firm Media still maintains a pleasing aesthetic and obvious calls to action on mobile navigation menus.
Optimizations: Images, videos, and other scripted content will be optimized for use with mobile operating systems and mobile device browsers. This ensures that content is loaded and viewed correctly without errors.
Testimonials, Accreditation Logos, and Photos
Customer testimonials have an 89% effectiveness rate in digital marketing, making them one of the most effective methods for customer conversion. Accreditation logos help site visitors quickly understand the quality and standards that your business meets. Before and after photos provide direct evidence that potential visitors can use to evaluate your work and understand your services. These three things contribute to the credibility of your website and your business, and they may significantly increase your customer conversion rate.
Firm Media utilizes all of these features on every website to reassure visitors of your business's quality work and help them to solidify their decision.
Improve Your Conversion Rate with Firm Media
These tools and techniques all work together to enable access to your website, make it easy to navigate, provide credibility to your work, and then push the visitor to engage. Firm Media offers custom website design that utilizes these features and more to help devise websites that maximize customer conversion. Contact us to learn more about our custom or templated designs.