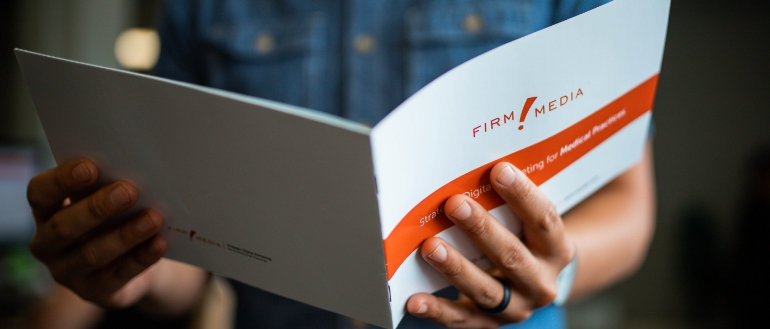 In today's highly competitive healthcare landscape, it is quite likely that your medical practice is trying to appeal to the same patient pool as other medical practices in your area. It is necessary, then, to ensure your medical practice's brand differentiates itself and stands out from the crowd—and that is where a brand guide can help.
Read on as we discuss how your healthcare practice can strategically utilize a brand guide and why having one is imperative to your success.
Why A Brand Guide is Important
A brand guide will convey a variety of information regarding your practice's brand—both on an internal basis within your company as well as externally to the community, patients and prospects, referral partners, and other key stakeholders. A brand guide does not subscribe to an industry standard. Rather it discerns your practice, communicates your brand identity, such as your mission, values, personality, tone, etc. It also describes the proper usage of brand assets, including your logo, color palette, font, typeface, and other unique elements.
All of these elements offer the creation of a unified practice identity, set standards, and provide a recognizable image of your business in the marketplace.
Consistency is Key
One of the primary purposes of creating a brand guide is to realize consistency in delivering brand messaging—no matter the platform. Consistency means that the patient population you are looking to appeal to is exposed to visual elements, core messaging, and uniformity of voice. This consistency occurs regardless of whether they find you via social media, your website, an email newsletter, an advertisement, or your brick-and-mortar office.
When there is cohesion in brand messaging, your practice will benefit from the following:
You will build trust and confidence by providing a consistent experience to your patients and prospects. People want to feel like you are the provider of choice when they place their health and wellness in your hands.
You will communicate your values and expertise. In addition to telling your patients that you know what you are doing and are passionate about achieving positive outcomes on their behalf, branded marketing shows this with visual assets and further conveys your professional identity.
You will grow awareness and recognition of your practice's brand. When consistent and uniform visuals are associated with your practice—regardless of where a patient or prospect engages with you—you will stand out from the competition and generate affinity amongst your targeted audience.
You will evoke positive emotions. When you present carefully crafted words and imagery, weave in consistency, and tie all of this to positive emotions, those emotions will resonate with the minds and hearts of your audience, and they will associate those feelings with your brand.
While all of those benefits are valuable, that last point is especially key. Because if mere exposure to your brand encourages feelings of happiness, then there is an increased chance that your practice's bottom line will benefit. Happy people are more likely to take action and buy, especially when they feel they can trust your expertise and professionalism.
Build Your Brand
Launching a brand or considering a re-brand is an exciting opportunity for any medical practice owner, and you may be eager to begin creating a brand guide. Formulating a brand guide can be a big undertaking, and strategy must be present. We highly recommend partnering with a team with a deep understanding of marketing and brand strategy for healthcare practices in your industry.
Reach out to Firm Media today to learn about what goes into creating a brand guide that helps your practice stand out and build affinity with your target audience.