The recent unveiling of Apple's Link Tracking Protection (LTP) has set the marketing world abuzz, especially for those of us at Firm Media. Today, we're diving into the intricacies of LTP, exploring how it might impact your email marketing efforts, and offering insights on how to adapt to these changes effectively.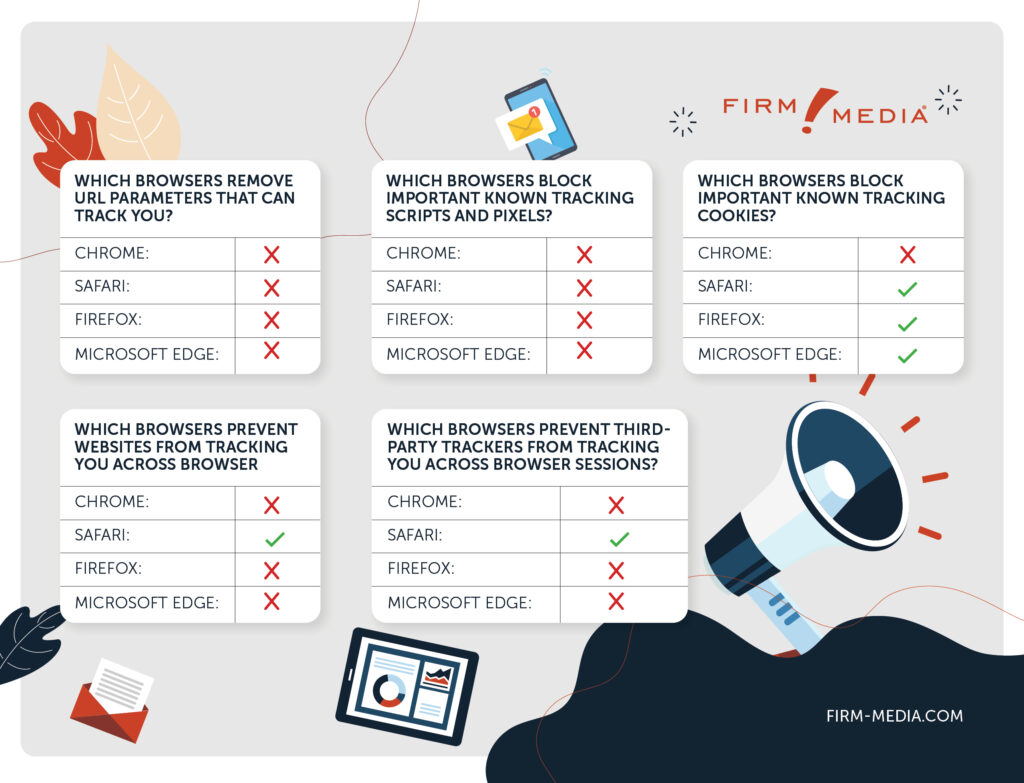 Understanding Link Tracking Protection (LTP)
LTP, integrated into Safari 17, is Apple's latest move to enhance user privacy. Its primary objective is to make it more difficult for brands to track consumers across various channels, with a particular focus on impeding conversion tracking related to advertisements. The mechanism behind this is the removal of specific parameters from URL strings when they resolve in Safari, regardless of their initial placement – whether on a website, within a social media app, or in emails, SMS, or push messages.
---
The Parameters Under Scrutiny
UTMs will remain, so email marketers will still be able to track the traffic source. LTP targets tracking parameters used by tech giants like Facebook and Google. It also includes parameters utilized by email service providers (ESPs) such as Drip, HubSpot, Mailchimp, MailerLite, Marketo, Omeda, and Vero. These ESP parameters may be on the chopping block because they serve as identifier tokens across websites, functioning similarly to personal ID cookies.
---
Minimizing the Impact of iOS17
There is a glimmer of hope for email marketers: LTP does not disrupt redirected email links, except when a subscriber opts for Safari Safe Browsing – a relatively rare occurrence. This means that even if your emails contain parameters typically removed by Safari, they remain intact when integrated into redirected email links.
A word of caution: Avoid the use of URL shorteners as redirects. These are frequently employed by spammers to conceal malicious website URLs, and their use in campaigns can lead to emails being classified as spam or blocked, potentially harming your sender reputation.
---
The Likely Impact of LTP
LTP mainly targets advertising platforms, emphasizing conversion tracking and source attribution. However, certain email marketers may be affected, particularly if they use ESPs that don't redirect email links and have tracking parameters removed by LTP.
It's worth noting that Safari claims only about 26% of the market share, while Apple Mail is at 58% of the market share. This difference significantly lessens LTP's impact, similar to what we saw with Mail Privacy Protection (MPP).
---
Getting the Support You Need
While LTP may introduce changes to the digital marketing landscape, adapting and making informed decisions are essential for continued success. Firm Media has a team of experts who are committed to helping you reach your audience effectively, no matter the challenges that come our way. Contact us today if you have any questions.