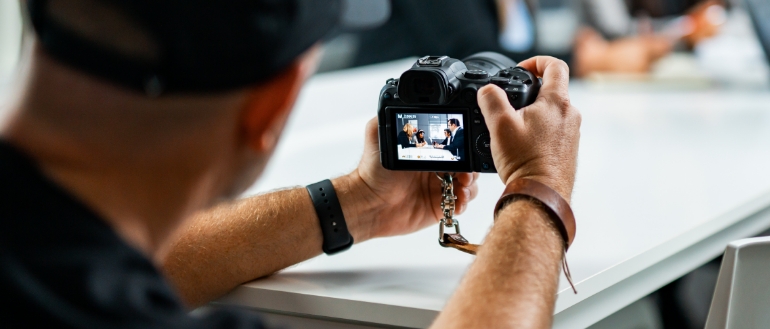 Whether you run a medical clinic or dental office, you know the importance of marketing and bringing in new patients. Having people who support your practice and who stay as long-term patients is a positive reflection of the care you provide.
---
Video and Photography in Marketing
Marketing can be done in many ways, but video marketing and custom photography offer benefits that other features may not. You can capture an audience's attention, inform, entertain and educate your clients, or show your brand story.
There are three main benefits to using custom photography and video:
It can help you get better conversion rates compared to other marketing options
It helps gain the trust of your audience
It shows what is unique about your office
Getting Better Conversion Rates
Another reason to opt for custom photography and video is to get better conversion rates. A potential patient may be wary of your service if it looks generic. While using stock images is helpful, custom photography is likely to keep a patient on your site longer rather than searching for a competitor.
Integrating a video into your website and sharing that video link on social media platforms gives consumers direct access to your website, products, and services.
Video marketing speeds up the growth of revenue by 49% compared to revenue growth without video. That reason alone is a good explanation of why you need video for your practice.
---
Gaining Clients' Trust
One of the first reasons to opt for custom photography and video is to give your patients a better understanding of the treatments and procedures you offer. Depending on your services, there could be some important instructions or explanations of procedures your patients need to know before they arrive.
Using custom photography, you can explain the tools you will use for a particular treatment or give an overview of something as simple as the check-in process. Because many patients have anxiety when going to the plastic surgeon or dentist, having this information in advance helps them get more familiar with your practice, so they have less trepidation.
Custom photography also helps you introduce your staff and the people who will work with patients in the future. For your patients and potential clients, seeing a familiar face will help them feel comfortable when they arrive. Any sense of comfort or belonging is a good way to help convert patients from one-time visits to long-term clientele. Your staff members should all have professional headshots and a short biography on your website. These headshots set the tone for your practice, so happy, welcoming photographs will be more inviting.
Video Testimonials
Another tip is to remember to add testimonials to your website. While written testimonials can be effective, a potential patient may be more captivated by a video testimonial that provides a visual of the results. This is a great opportunity to have a former or current patient give a testimonial to highlight the authenticity of your practice. Giving people an inside look at your brand is a good way to get them excited about what you offer.
Even better, when you add a video testimonial, the person in that video is more likely to share it. This means your video has the potential to reach more local consumers and gain new patients.
Some Examples of Firm Media's Videography
Showing Your Uniqueness
Is there something special about your office you would like to show publicly? Is there a treatment you offer that others do not? Showcasing that information with a video or custom photography is a good way to convert website visitors into paying customers.
It is easy to write down that you do a specialized technique or offer certain amenities in the office, but seeing is believing. Make a video walking through your waiting room if you provide drinks, a play area for kids, calming massage chairs, or other amenities that your patients will appreciate. A video can also take your patients through your office to see private rooms or seats with a view of a landscape or cityscape. They want to know what to expect, and you should be willing to show them before they ever get to your office.
Using photography and video to highlight the parts of your practice unique to your clinic is an easy way to show patients that you do all you can to make them comfortable. If they feel excited about coming to your office, they are more likely to make and keep their appointments.
Remember, video also gives you the ability to tell your story. What did it take for you to get where you are today? What is your background, and what makes you an authority in your field? Creative storytelling can create a compelling video that draws consumers in and makes them want to turn to you with their questions and concerns.
As a medical or dental provider, you have the option of using video and photography to highlight your staff, facility, and self. Your marketing campaign is a place to show off your skills and personality.
---
Grow Your Practice with Branded Video and Photography
At Firm Media, we help medical and dental practices build their brands, grow their practices, and reach more patients. Contact us today to learn more about how we can grow your brand with professional video and photography.