In today's digital world, it is estimated that over 50% of patients do their own online research to qualify a medical practice prior to making contact.
Because of this, it is imperative to know what patients are saying about you—good or bad—and engage in proactive reputation management. Firm Media is eager to help you implement best practices for monitoring and managing online reviews, while remaining HIPAA compliant.
Ratings: 76% of consumers trust online reviews as much as personal recommendations.
Quantity of reviews: The average person reads at least 10 reviews before they feel like they can trust a business.
Recency of reviews: Your newest reviews carry more weight. 84% of people think that reviews older than 3 months aren't relevant.
---
Guidance To Handling Reviews and Remaining HIPAA Compliant
While positive reviews are key to a successful practice, you are also required to remain HIPAA compliant when responding to reviews and sharing testimonials. Your reputation management strategy must never involve PHI (protected health information).

At Firm Media, we have an official HIPAA Officer who advises on HIPAA best practices and review compliance. When responding to a review—be it positive or negative—your reply cannot identify the reviewer as a patient, offer any insight on demographic information, their condition or treatment, or financial data regarding their treatment. While this may feel complex and intimidating, when you partner with our team, ensuring HIPAA compliance alongside reputation management will become easier.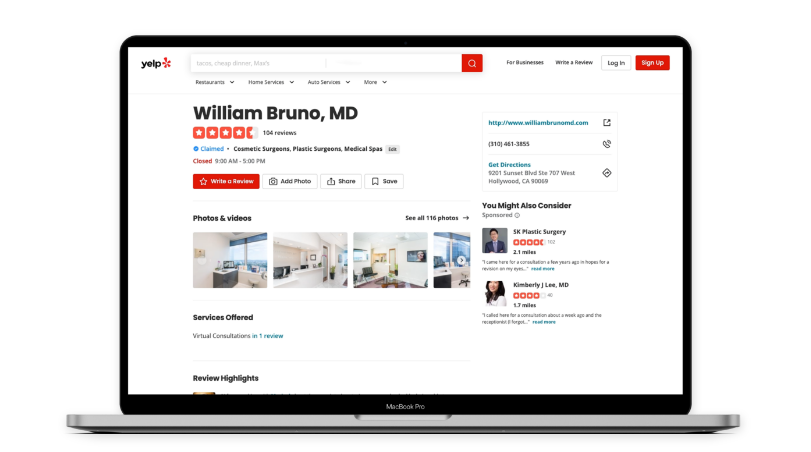 Getting Reviews Is Hard. We Help Make It Easy.
There is a simple fact, most patients do not leave reviews, and getting them to review your practice can be difficult. However, there are strategies to maximize the reviews you receive—and this is where we help. Firstly, we will coach you on how to ask for reviews. We will also instruct you on why timing is important and how to encourage a patient to air a grievance privately, instead of on Yelp or Google.
---
The Benefits Of Reputation Management
There are many benefits associated with having a sound reputation management strategy, including:
Increased Sales
Online reviews have an impact on customer buying decisions. If you want to boost your revenue, place a focus on generating positive online reviews. The more fantastic reviews you have, the more likely you will attract new patients.
Increased Credibility
If a prospective patient is researching your practice and reading reviews submitted by satisfied patients, you are likely to build trust and the prospective patient will feel confident when reaching out to schedule a consultation.
Attracting Better Talent
A comprehensive reputation management strategy will not only attract new patients, but it will also recruit best-in-class talent. Job seekers want to work for an employer who treats customers well because that is reflective of how employees are managed, too.
Developing Your Brand
Through your positive reviews, prospective patients will get an idea of who you are as a provider, your values, and how you treat people. In turn, your brand will take root in the minds of your patients and prospects. When it is clear to a prospect that you are reputable, run a good business, and have integrity, you will attract patients who have a similar outlook. This leads to serving patients who are honest, loyal, and eager to be long-term patrons of your practice.
---
Reputation Management For New and Long-Serving Practices
Regardless of if your practice is established or brand new—reputation management matters. Ultimately, patients want only the best care as they seek to improve their lives—and they want to make certain they get the results they desire. Investing time and money in a medical or dental practice is a big decision that is intensely personal. By engaging in reputation management for your start-up or established practice, you will help patients make informed decisions about who they believe can best serve their needs.
Key Tips And Statistics
Worried about patient volume at your office because of the COVID-19 pandemic? You are certainly not alone. Even while restrictions ease around the country, many patients remain focused on searching for a new provider to address their medical needs. And studies show that approximately 80% use online reviews in their decision-making. Therefore, it is imperative that you put your best foot forward, so a prospective patient chooses you over your competition.

At Firm Media, we have helped thousands of practices just like yours attract more patients through the generation of positive, insightful, and honest online reviews. Additionally, online reviews will build trust with your prospects in several key ways:
Positive Feedback
Approximately 76% of consumers trust online reviews and consider them as meaningful as a personal recommendation given by a friend or family member. Make sure your practice can point your prospective patients to a review page on your website as well as on external sites.
Quantity Counts
On average, a person reads approximately 10 reviews before they feel confident that they can trust a business. Therefore, when it comes to reviews, more is better. Make sure you are asking your satisfied customers to recount their experience with you online. Furthermore, implement a process that enables this to be consistent and easy, such as via a follow-up email or by asking directly when they check out at a reception desk.
Keep Reviews Fresh
It speaks volumes about a practice if they have many recent, fresh reviews to point a prospective patient to—just as it does if the most recent review is several years old. Newer reviews carry more weight with consumers—and approximately 84% of people believe that reviews that are older than three months are not relevant. This means that it is important to be constantly soliciting patients for feedback so your testimonials do not go stale.
Review Impact Revenue
A Harvard Business Review study uncovered that simply adding an additional "star" in ratings on a site like Yelp helps a business generate approximately 5-10% more in revenue. Moreover, consumers note that the longer and more detailed a review is, the more weight it holds when deciding to use that business.
---
Meet Your Team At Firm Media
Reputation management is just one piece of a comprehensive digital marketing strategy—and that is why our reputation management specialists partner across our company in planning and implementation. Our team will ensure reputation management aligns with other services, including website development, social media management, email marketing, SEO, and more.