We get it. You hate Yelp. You think they're extortion artists, they hide your good reviews, the Sales reps can be pushy, etc… Believe us when we say, we've heard them all. Whether you personally like Yelp or not is actually irrelevant. Why? Because your potential patients are using Yelp to research you and your practice more than any other doctor review site.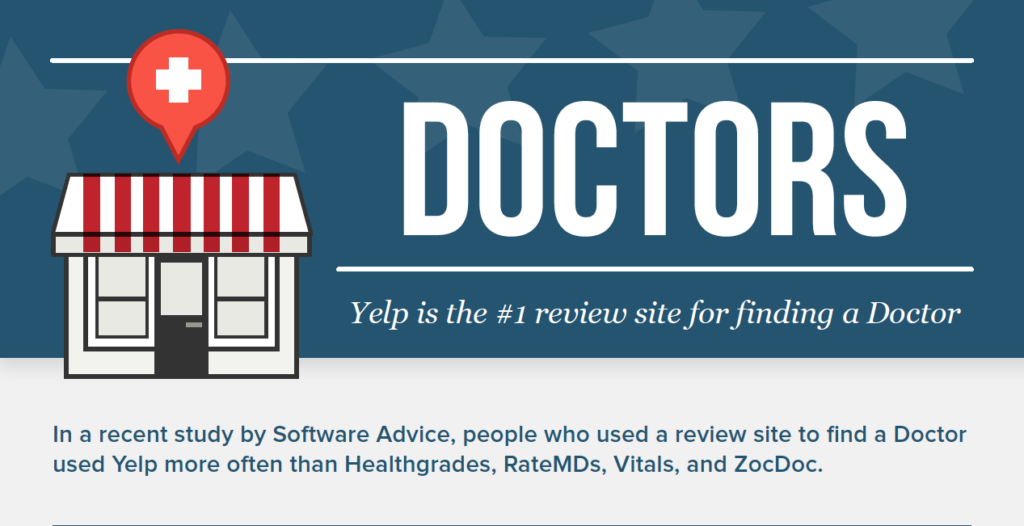 Yelp is the #1 Review Site for Finding a Doctor
Yes, you read that title right. According to a recent, independent study conducted by Software Advice, people who used a review site to find a doctor used Yelp more often than Healthgrades, RateMDs, Vitals and ZocDoc (numbers for RealSelf were not provided in this study). The study found that users turned to Yelp 27% of the time (whereas the closest other reviews sites came in at 26%). Over a quarter of your potential patients are using Yelp to research you, so if you're ignoring Yelp, you're missing out on new business.
How Many People Are Actually Using Review Sites?
According to the same study, in 2013, 25% of potential patients were using review sites to help then find a doctor. In 2014, that number jumped up to a staggering 42%. Data is not available for 2015 or 2016, but you can safely assume that the percentage of people using review sites to find a doctor has increased even more.
When Do Patients Look At Reviews?
The short answer is: at every stage of the buying cycle. So if you're not paying attention to Yelp (or any other review site for that matter), not only could you being missing out on new business, you can potentially be missing out on returning business. The same study from Software Advice found that 61% of patients use a review site before selecting a doctor. The study also found that 20% use a review site to evaluate a current doctor and 19% use a review site after selecting a doctor. Based on this, regardless of where the patient is in their purchase decision, they are using review sites to help them select a doctor that is right for them.
What Kind of Volume Can Yelp Produce?
According to Yelp (with data available from March 2015), there are 22,534 calls every day from Yelp to a Health and Medical business. That's not all. There are also 30,155 visits to a website for a Health and Medical business that originated from a Yelp business page. Those are quite staggering numbers! Also, since patients are using Yelp to search for a specific procedure to research a specific doctor, they almost always are very engaged with your website and have a very high conversion rate.
Ok I'm Convinced I Should Be Paying Attention To Yelp. What's the Next Step?
The first step is to make sure you claim your profile on Yelp and get it optimized with your business information. Upload photos, fill out your hours, write a description about your business and yourself and fill out any other fields that you can. The more information you can fill out, the more information your patients can learn about you.
Once your page is setup, take a look at the insights provided by Yelp to see how many times your profile is being viewed. You can also switch tabs to see how many leads Yelp has sent you. If you know how much a lead is worth to you, then you can even input that information into the third tab on your Yelp Business Overview page.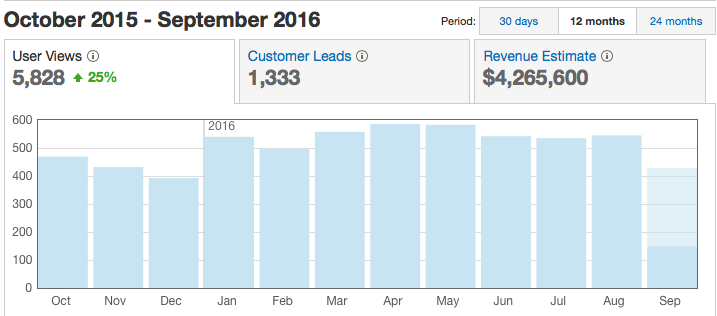 Yelp Views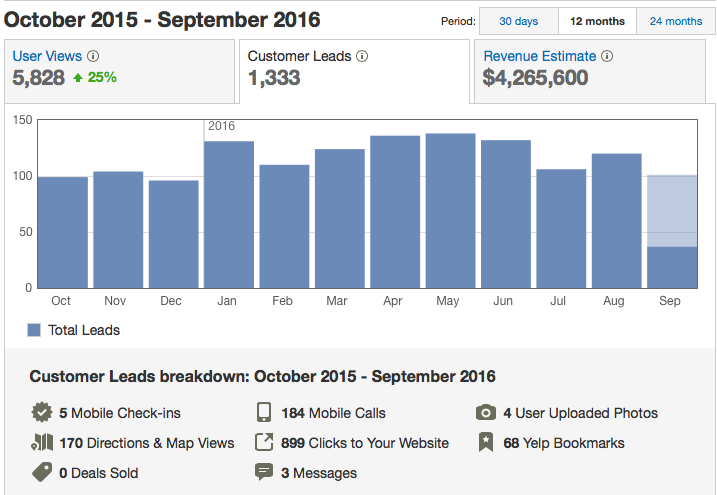 Yelp Leads
But that's not the only way you can measure what is happening with Yelp. If you're using Google Analytics (or any other Analytics tool for that matter), you can find how much traffic Yelp has sent to your website in your Referral Sites report.

Google Analytics (click to enlarge)
So make sure and take a look at Yelp and Analytics for a complete picture of what is going with Yelp. We'll bet you'll be surprised by the results.