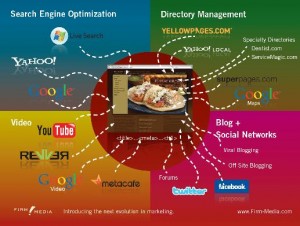 (1) Web Design: We strive to make sure that you have a conversion-friendly website. This is your full-page ad for the next five plus years, so make sure that you don't skimp or cut corners here.
(2) Directory Management: We will be happy to help you decipher exactly which specialty directories are worth investing in per your region: plasticsurgery.com, yellowpages.com, and many others.
(3) Search Engine Optimization (SEO): Our SEO specialists conduct intelligent keyword research and ensure that your website speaks fluently to the search engines.
(4) Internet Video Marketing: We will help you develop a handful of "Internet commercials" that are based on commonly searched phrases before submitting them to various video platforms.
(5) "Web blogging" or Blogging: We will set up a custom-made blog (important that it matches the branding of your website) for you, in which our marketing consultants will teach you how to use this tool. Blog content is frequently indexed in search engines due to the inclusion of highly searched phrases.
(6) Pay Per Click (PPC): We believe wholeheartedly in a well-run PPC program with a healthy monthly budget. Sponsored links are typically clicked on simply one out of 10 times, but keep in mind, they are being clicked. Plus, to be visible in search engines for multiple search mediums is beneficial for branding.
Follow us on Twitter: @FirmMedia